Petit Plan's cinematic action titled "CineCosmos" screens films which show the effects of extreme idealism on society.
Screenings are with free entry
The action will take place on 15 April 2019 at the Goethe Institute (14-16 Omirou Str. – Athens) at 10.00
After the screening education material will be distributed and a brief discussion will follow
We are young. We are strong.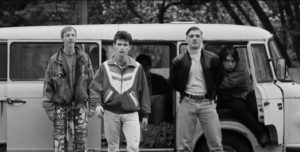 Rostock-Lichtenhagen, August 1992: unemployed youths struggle with their boredom and frustrations in a prefabricated housing development. At night, they run riot, fighting with the police and foreigners. The confrontations become so threatening that the authorities decide to evacuate the Romanian Roma from a refugee centre. As potential victims, the Vietnamese remain in the so-called "Sonnenblumenhaus" (sunflower house). The riots escalate, but the police retreat, and a night of violence ensues – before the eyes of a gaping and applauding crowd.
With the support of